She commented on the nuances of the room: the texture of the couch and the way the sunlight streamed in and cast illuminations and shadows. She breathed in the environment, speaking of how she would paint or photograph the scene to capture the moment. Lorena Valencia had never been one to mindfully acknowledge the details of the present in that way, but this past year greatly shifted her perspective.
Lorena comes from a lineage of resiliency. Her parents placed high value on education and safety and made the decision to move their young family from Mexico to the US. Her father worked as a migrant farm worker, meaning that her family followed seasonal crops and often lived in tight accommodations (she remembers all six members of her family sleeping in a studio apartment at one point). Lorena's natural intellect and work ethic stood out to her mentors in high school, and she was encouraged to apply to rigorous institutions that would foster her potential. She immediately connected with Pitzer College and its "come one, come all" spirit that exuded inclusivity and opportunity. Her authentic affinity for social justice and advocacy paved the way for a career in social work. Following her graduation, she "felt called through [her] faith and social change education" to move to East LA, where she knew her work and life path would be most needed and meaningful.
Fast forward many years of determination and commitment, Lorena was given a leadership role in managing a team of social workers employed by LAUSD that provide clinical case management services for at-risk youth. Lorena sees the potential in each student through a "lens of what's going well" and "polishing their strengths." Given her drive and selflessness,
Lorena had little time remaining to look inward. And little did Lorena know that her fast paced life would take a turn in a way that she never could have expected.
Lorena's brother was diagnosed with leukemia. It went from "treatment, to heavier treatment, to worst possible treatment, to bone marrow transplant, to rejecting bone marrow transplant, to death" all within the span of a year. After this incredibly jarring and unexpected loss, Lorena went in for her yearly routine mammogram, which revealed some suspicious activity. The initial reading did not phase Lorena until she went to her follow up appointment and saw herself in a patient gown. After her initial diagnosis of breast cancer, Lorena experienced pure shellshock, recalling feelings that she was "not really a cancer patient. This was not really happening to me." A friend from church referred Lorena to CSC. Easing into acceptance of her diagnosis, Lorena remembers thinking "if I gotta do this, let me figure out how to do this."
Lorena joined CSC's weekly breast cancer support group and began coming to photography and meditation classes, among others. She religiously attended her group prior to making a treatment decision, a time that she felt was the most difficult of the entire cancer experience. In group, she felt that her "darkest thoughts lost power" when she was able to state them out loud among women she trusted. She recounted that she went from "thinking I was alone, but realizing that I was not."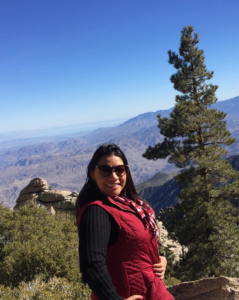 When she ultimately landed on the decision to pursue a mastectomy, she moved into action mode. Going into her surgery, she wanted to be as prepared as possible. She got her living trust and assets in order and "made peace with those [she] loved." The surgery itself was "10 days of hell," followed by a period of deep personal reflection. She utilized lessons gained from her meditation classes to "connect with a higher power and a higher sense of self." This deep introspection allowed Lorena to wonder about "What does the unafraid Lorena do? What does Lorena do without worry? Who is my inner mentor, and what would my best self do?" This line of thinking that Lorena experienced following her surgery, fostered by the supportive environment in CSC's support groups and mind body classes, was liberating in that she was now fully able to embrace her potential in every single moment. Lorena is now in a period of recovery, and will be participating in CSC's Return to Wellness program.
Beyond Lorena's personal transformation, her warm presence is transformative for CSC. It is hard to meet a CSC member who has not been graced by her honesty, courage, and compassion. Though she will forever be a true giver, Lorena has found that "[my] life is more balanced since cancer. I cannot do as much, but I can be. I can't do the long hikes I used to do, but I can do a short hike and notice the leaves, and the creek, and the sounds. It's a season of being."