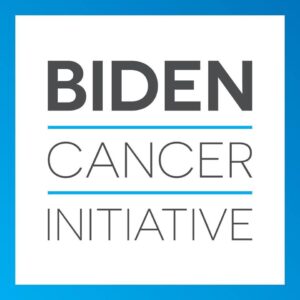 In October 2015, months after his son died of brain cancer, former Vice President Joe Biden called for "a moonshot in this country to cure cancer." Biden's aspiration was personal, as it is to the millions of people across the United States who are impacted by the disease. Former President Obama added "For the loved ones we've all lost, for the family we can still save, let's make America the country that cures cancer once and for all."
Not only did Biden assert the need to for additional funding to go towards research and availability of more treatment options, but he also called for increased screening, prevention practices, and more accessible care to be put into place. With more funding in the area of cancer research, scientific opportunities would be accelerated. Named in Biden's son's honor, the Beau Biden Cancer Moonshot Initiative was authorized to receive $1.8 billion over the next seven years to fuel its lofty goal of consolidating research that would typically take 10 years to complete into a span of 5 years. Following the birth of the Moonshot Initiative, Biden, along with his wife Dr. Jill Biden, founded the Biden Cancer Initiative, a nonprofit charged with executing the goals outlined by the Moonshot. Kim Thiboldeaux, CEO of Cancer Support Community Headquarters, serves on the board of the Biden Cancer Initiative, providing her unparalleled input on patient advocacy and the importance of psychosocial support. Nonprofits like the Biden Cancer Initiative work alongside federal agencies, such as the National Cancer Institute, to fully realize the goals of the Moonshot.
The Biden Cancer Initiative hosts an annual summit to inspire solidarity behind the Moonshot initiative. The summit, which is held in Washington D.C., is one of 450 Biden Cancer Community Summits that happen across the United States on September 21st. The power of the summits lie in the thousands of participants who exemplify #cancerFIERCE, a campaign launched by the Biden Caner Initiative and serves as a tagline for the collective cancer narrative. The voice of #cancerFIERCE, and the voice of patients, caregivers, survivors, and those who are bereaved, is made louder by those who participate in the summits. And the louder the voices, the more the Moonshot initiative is propelled forward.
There are many ways to get involved in these nationwide summits:
1. Attend a Community Summit: CSC Los Angeles will be hosting a Community Summit. Click here for more information
2. Virtual town hall: Tweet your questions to @BidenCancer using #BidenCancerSummit to participate in discussion surrounding cancer prevention, treatment, and survivorship
3. Shared Studios Portal: Visit one of 38 audiovisual portals around the planet to join the conversation
We look forward to witnessing the ongoing progress of the Moonshot Initiative, fueled by nonprofits like the Biden Cancer Initiative and the #cancerFIERCE community.